Google Boot Camps Available
to Your State for FREE!
Through a generous grant from Google, as announced on April 2nd, COABE is proud to share that we will be holding Google Boot Camps forApplied Digital Skills in every state over the next year. Applied Digital Skills is Google's free, video-based curriculum for teaching digital literacy skills — everything from creating a resume to using spreadsheets to create budgets.
This training will be offered free of charge to you and can be included as an "add-on" to your state conference. Please register or contact sharonbonney@coabe.org for more details.
Also, when you sign up your state to participate in these free boot camps, we will gladly provide your state with free advertising to members in your region! Our leadership can also Zoom in to deliver a keynote and/or to meet with your board of directors upon request.
We are accepting applications for Google certified trainers to lead our boot camps.
Have you already been using Google Applied Digital Skills? Share your success story and the opportunity to win one of our prizes!
You and your staff and/or state members can complete this short survey for the chance to win a $500 certificate toward COABE 2020 in Baltimore, Maryland on April 4-6, 2020.
Thank you for attending this year's COABE National Conference in New Orleans, Louisiana! We hope that you had a rewarding experience at the 2019 COABE Conference! Please take a moment to read through important post-conference information.
In case you missed hearing about this amazing opportunity during the second and third general sessions, COABE and Google are partnering together to offer free bootcamps across the nation. Get the details HERE.
Conference Evaluation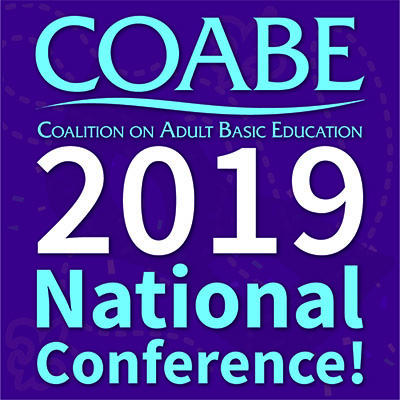 We hope that you enjoyed the conference and that you found the national-level professional development helpful to your work in adult education.
Please complete the following conference evaluation, and we'll enter you into our drawing for next year's COABE National Conference in Baltimore, Maryland, April 5-8, 2020. Once you complete your evaluation, you will receive your certificate of attendance.
Earn Graduate Credits
Are you interested in obtaining graduate credits from USF? Your attendance at COABE's 2019 National Conference allows you to apply for a graduate credit. Click here for more details.